Garden Fencing Cardiff & Newport, South Wales (Domestic Gates)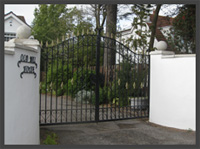 At Gates 'n' Railings we offer our professional gate and fencing services to all of our domestic clients. With our many years of experience we can design, manufacture, supply and install a wide range of stunning gates, railings and palisade fencing for any domestic property. All of the gates, railings and palisade fencing we offer are available in a range of colours and can be made to the specification of each client. As well as gates & railings we can also offer a great range of security grilles & handrails, balconies and balustrades.
Installation
We will install our products for domestic clients professionally and ensure that there is minimum disruption caused at all times. Our team of installers are highly skilled and have many years of experience installing the products we supply professionally.
Automated Gates - Newport
We can design and manufacture automated gates to the exact specifications of each client whether they are required for the entrance to a driveway or a path and we will also offer gate automation for larger gates. Our team of gate specialists will take care of the whole gate installation for you. This will include the manufacturing of the custom made gates, all ground works and installation of the posts and gates. We always work to the highest standards possible to ensure that the automated gates we install are to the clients liking and that they are completely satisfied with the installation.

Our gates are all constructed from the highest quality materials and are designed to offer great security, be easy to use, aesthetically pleasing and affordable. They are also designed to give many years of hassle free use with regular maintenance.
Railings
We also specialise in designing and installing bespoke railings for all types of houses. Each set of railings will be manufactured using the latest techniques and best quality materials available to us to ensure a very high quality and durable finish. We will also install the railings to merge in with any existing or new gate system so that it looks like they are part of the gate.
If you would like further information regarding any of the products or services we offer for the domestic market or if you would like to request a quote then please give us a call and we will deal with your enquiry.