Areas Covered:
Newport
Cardiff
South Wales
Gates, Railings & Fencing Cardiff & Newport, South Wales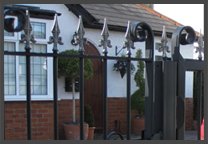 Gates 'n' Railings specialises in the manufacturing and installation of gates and railings, fences, balconies, automated gates, security grilles, & handrails and balustrades for clients in South Wales, Cardiff and Newport. All of the products we offer can be custom made to the requirements of each client so each product is completely bespoke. We also offer security fencing services for large commercial and domestic properties as well as palisade fencing.
Each product we have to offer is constructed from the best materials possible and using the latest techniques to create the highest quality gates, fences, railings and balconies for our clients. With any of our products, our clients will be able to enhance the security and image of their property.
We have many years of experience in manufacturing and installing all of our products so our clients can be assured that they will receive a high quality service from us every time and we always make sure that they are completely satisfied with the work we have completed.
Railings South Wales
We specialise in a wide range of custom made gates to suit any modern or classic homes in various designs constructed from high quality materials including iron and wood. Each gate we design is bespoke to every building so each gate is completely unique. We can design our custom made gates to suit any customer requirements or budget to suit their home or business. If required by the client, we can also offer a great range of automated gates.
If you would like to contact us for a quote or enquire about any of the products and services we offer then please do not hesitate to give us a call on calling 01446 412 045 or send us an email.