Commercial Fencing Cardiff & Newport, South Wales (Security Grilles & Railings)
We specialise in designing, manufacturing and supplying commercial fencing, gates and railings for all types of businesses in South Wales, Cardiff and Newport to help keep the premises secure from intruders. Our ates & railings, commercial fencing and palisade fencing can be designed to any specification using the highest quality materials available to us ensuring a quality and very durable finished product. We also specialise in designing and manufacturing hand rails, balconies and balustrades.
Installation
Our installers will visit the site to assess the area for installation and then provide a written quotation before commencing with work. Once the product is installed we will make sure that everything is secure before leaving and arrange a regular maintenance program if required.
Gates
Our commercial gates are suitable for commercial properties and businesses who need to protect their properties from unwanted visitors. All of our gates are manufactured and installed to the latest British and European standards to ensure they will provide the protection needed. We can also provide automated gates for properties if they are required.
Advantages of our commercial gates: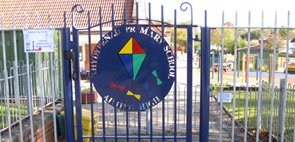 Made to measure
Wide range of materials
Great range of finishes
Professional installation
Custom built to suit requirements
Fully BS EN compliant
The gate systems we supply include cantilever, tracked sliding gates and Bi-folding speed gates and all of our gates can have access control added for extra security and can be fully automated for ease of access. We can also supply ready made gates available in standard sizes for quicker installations rather than having a bespoke system designed.
Security Grilles and Handrails
We also supply a great range of railings, security grilles and handrails for commercial properties and local authorities. Our railings and handrails can be completely bespoke for each client if they require something different or we can supply standard sets if they require a quicker and cheaper installation.
Our security grilles and handrails are manufactured from the highest quality metals to provide maximum perimeter protection for commercial buildings and to help keep out unwanted visitors. We will design each set of railings to the exact specifications of the client and professionally install them to fit in seamlessly with any existing railings or gate systems.

If you would like to discuss your requirements for a new gate system or railings or just to enquire further about these services and our fencing services then please give us a call on 01446 412 045. Alternatively you can send us an email from the contact page and we will aim to deal with your enquiry as soon as possible.